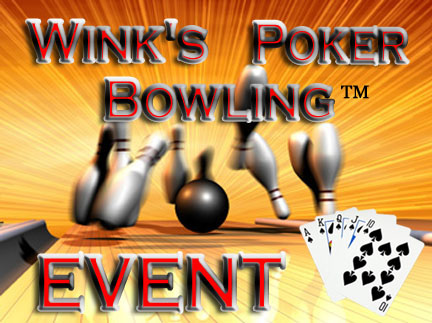 EVENT: Sunday 07/14/19
AMF Margate Lanes
2020 N State Road 7, Margate, Florida 33063
954-972-4400
CHECK-IN: Begins at 1:30pm.
BOWLING: Shooting to be bowling by 2:30pm.
50 person max capacity.
First Come / First Served.
Can pay at Check-in Table with Cash, Credit Card, Apple Pay or Google Pay.
PRICE: $20 p/person
INCLUDES:
3 Games of Poker Bowling
Free Shoe Rental (if needed)
and 5 Raffle Tickets.
PLUS .. Most of the Bowling Alleys will be
offering our group Drink & Food Specials.
*** PRIZES *** PRIZES *** PRIZES *** HOW IS POKER BOWLING PLAYED?
CLICK HERE to see the complete game format.
It will tell you how we play the game.
Copyright © Winkman Enterprises LLC
Wink's Poker Bowling™