Pooper Scoopers
This falls under the category of Too Funny to Be True .. BUT IT IS! Apparently, the Dog Waste Removal service is a big business.
I stumbled across them, quite by accident. (ewwww!) The NAMES and SLOGANS of these businesses are classics & REAL!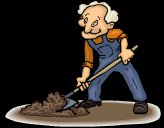 DOGPILE PATROL
IF DOODIE CALLS
SCOOP DE DOO, INC.
SCOOP DA POO, LLC
YARD GUARDDS ON DOODY
DOO DUDE! YOUR DOG DOO VALET
DOG GONE DOOKIE
THE NUMBER 2 CREW
POOP BUTLER
K-9 POOP-N-SCOOP
DOODY CALLS
SCOOPERHERO
DOODY-FREE LAWNS
SCOOPS-A-LOT
DOO DAH DAVE'S SCOOPER SERVICE
MINESWEEPER PET WASTE REMOVAL
POOP PATROL
DOGGY DOO NOT
POOP BUSTERS
THE POO MAN
SCOOPER GIRL
I swear I didn't make these up!
And their Slogans are Top Notch:
Weīre number one in the number two business.
No job too messy ... nor pile too smelly!
We scoop the poop so you donīt have to!
It may be just dog poop to you, but itīs our bread and butter!
Their Business is Our business.
Get the SCOOP on Poop!
Our skilled poo-fessionals use only the finest tools & materials.
We take THEIR business seriously.
Are things piling up in your backyard?
Remember, we will remove the DOO for you!
We do DOO so you don't have to.
We DOO the dirty work for you.
What I find even funnier is that each one says they are a PROFESSIONAL Cleaning Service. They've all got highly trained professional staffs. Professional? By who's standards? Is there some governing body in charge of Pet Waste Removal licensing and training? Are there College Courses teaching this? Can you earn a degree?
"This semester I'm taking POOP 1 and I hope to complete POOP 2 over the summer."
"Poop Theology - Does where and when your dog poops have a hidden meaning?"
So this now brings me to today's challenge. Let's make believe we've seen a Want Ad in our local newspaper for one of these businesses and they're looking to hire somebody. The ad says, "Please fax resume". What do you think would be good qualifications to list on your resume to help you get this job? Discuss. (This oughta be good. Giggle)